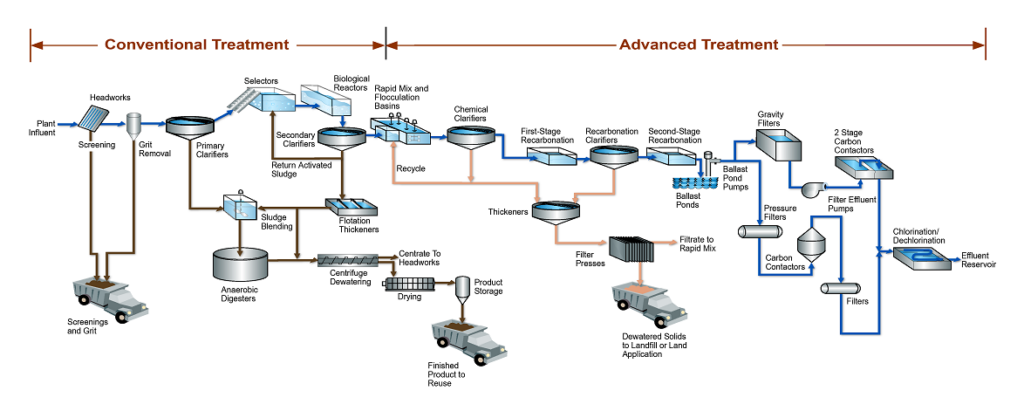 Capacity
42 MGD Annual Average Flow
54 MGD Peak Month (30-day rolling)
128.4 MGD Peak Instantaneous Influent
90 Million Gallons On-site Emergency Storage
7.5MW Emergency Generator Capacity
Key Permit Requirements
Chemical Oxygen Demand (COD) < 10 mg/L
Total Phosphorus (TP) <0.1 mg/l
Total Suspended Solids (TSS) <1.0 mg/L
Total Kjeldall Nitrogen (TKN) <1.0 mg/L
Turbidity <0.5 NTU
---
Conventional Treatment
Conventional Treatment removes over 90% of incoming pollutants and provides a high-quality effluent for subsequent advanced waste treatment polishing steps.
Mechanically cleaned bar screens (0.5-inch openings)
Vortex grit chambers, 24-ft diameter
Circular center-feed primary clarifiers with primary scum collection, 125-ft diameter
Archimedes screw primary effluent lift pumps
Aerobic biological selectors
Activated sludge aeration basins

Most basins fine-bubble diffusers
All basins operate in nitrifying mode with active D.O. control
Four basins have modified Ludzack–Ettinger denitrification process, can achieve 6-10 mg/L nitrate

Neuros energy-efficient turbo blowers supply air for the bioreactors
125-ft diameter circular center-feed secondary clarifiers with draft tubes, slot-valve draft control, and biofoam collection
Continuous monitoring of secondary effluent TSS, Nitrate, and Ammonia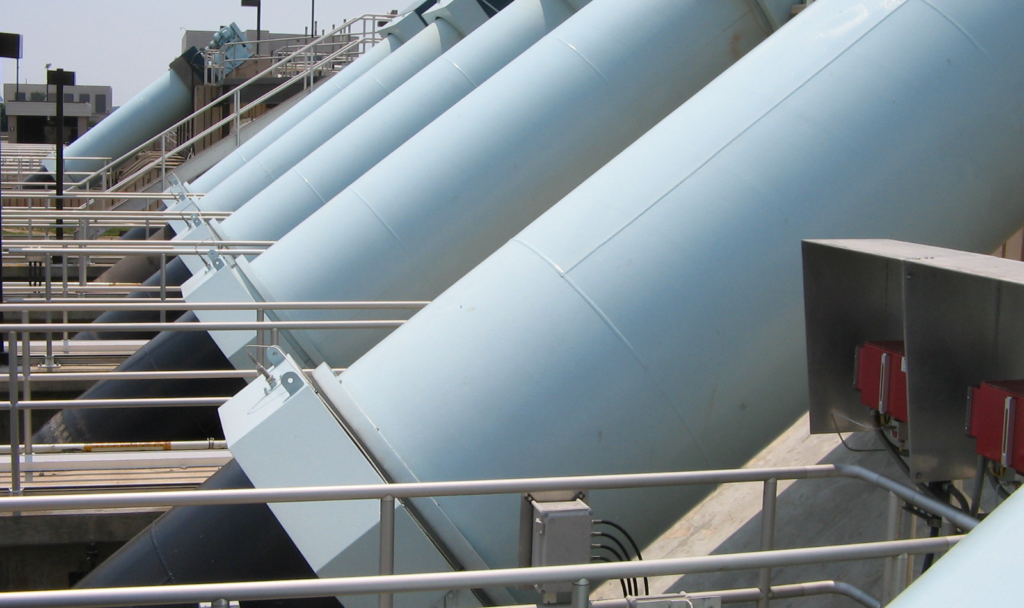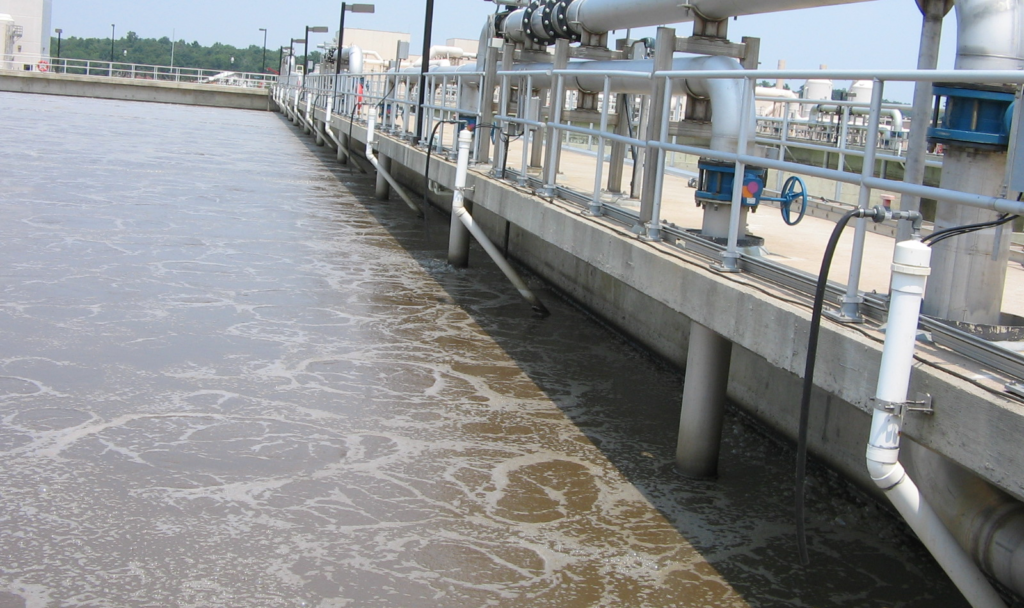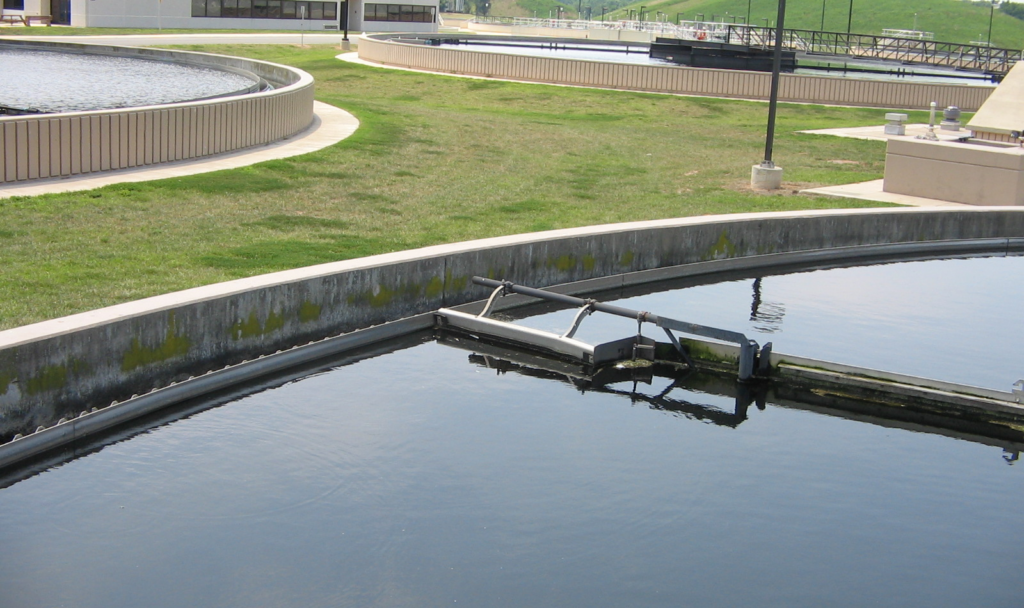 ---
Chemical Advanced Treatment
Process water leaving Conventional Treatment enters the high-lime process, to reduce phosphorus to below 0.10 mg/L. This process also serves as a barrier to viruses, captures organics leaving Conventional Treatment, and precipitates heavy metals.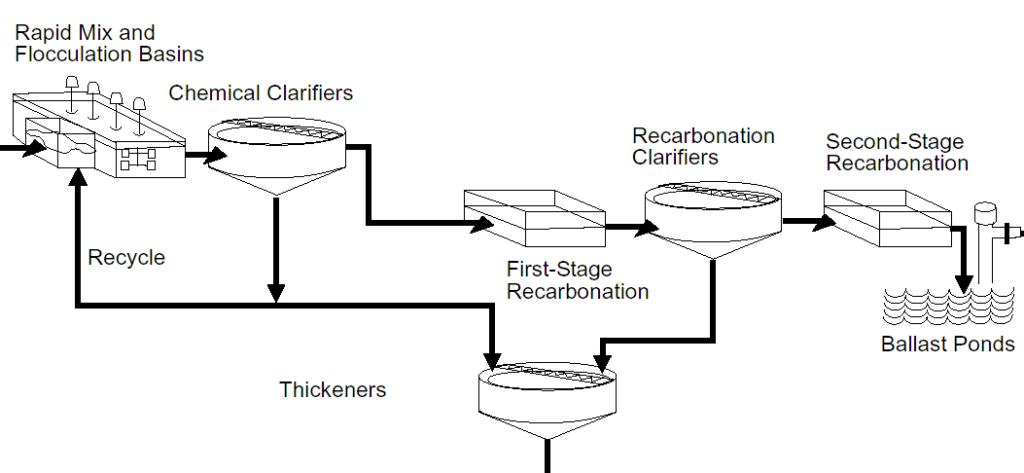 Silos with total storage for 240 tons of calcium oxide as pebble quicklime
Detention-type lime slakers with lime aging tanks
Rapid mix basins for lime slurry addition computer controlled to pH 11
Declining-rate flocculation basins
Chemical clarifiers, 125-ft circular
First stage recarbonation lowers pH to 10. Second stage lowers pH to 7 (neutral).
Both stages use coarse-bubble diffusers and introduce exhaust stack gas containing waste carbon dioxide from digester boilers, carbon furnace, and pelletizer furnaces, capturing greenhouse gas from emissions.
Recarbonation clarifiers between first and second stages to collect precipitated calcium carbonate
Gravity thickeners to concentrate chemical and recarbonation sludge
Recessed chamber plate and frame filter presses to dewater sludge
On-site 2 million cubic yard captive landfill for dewatered lime solids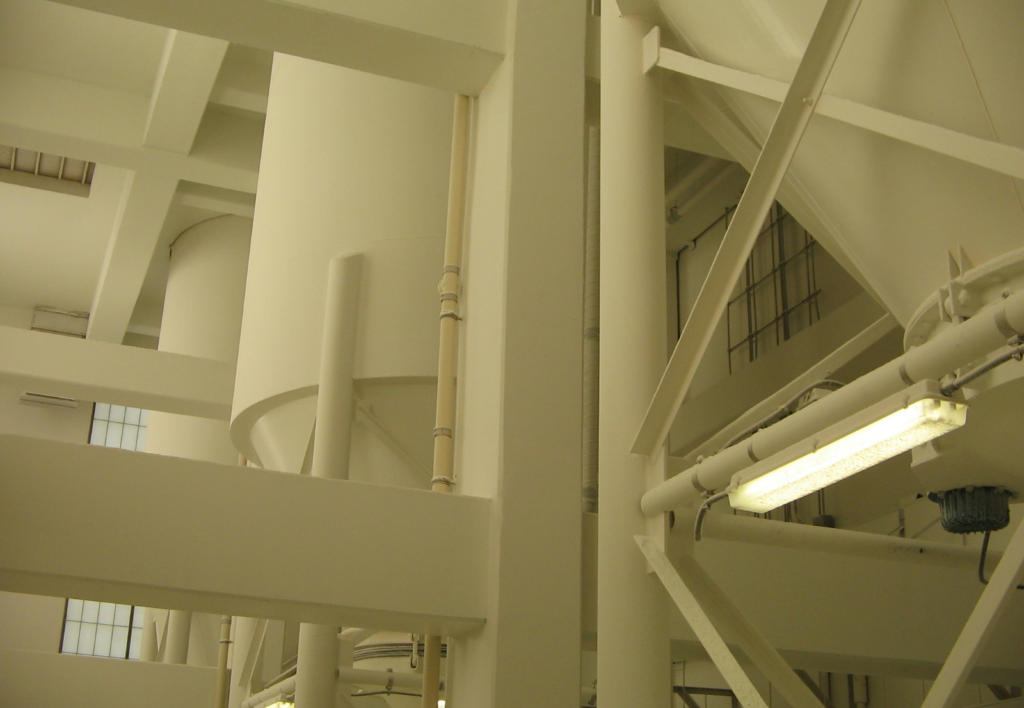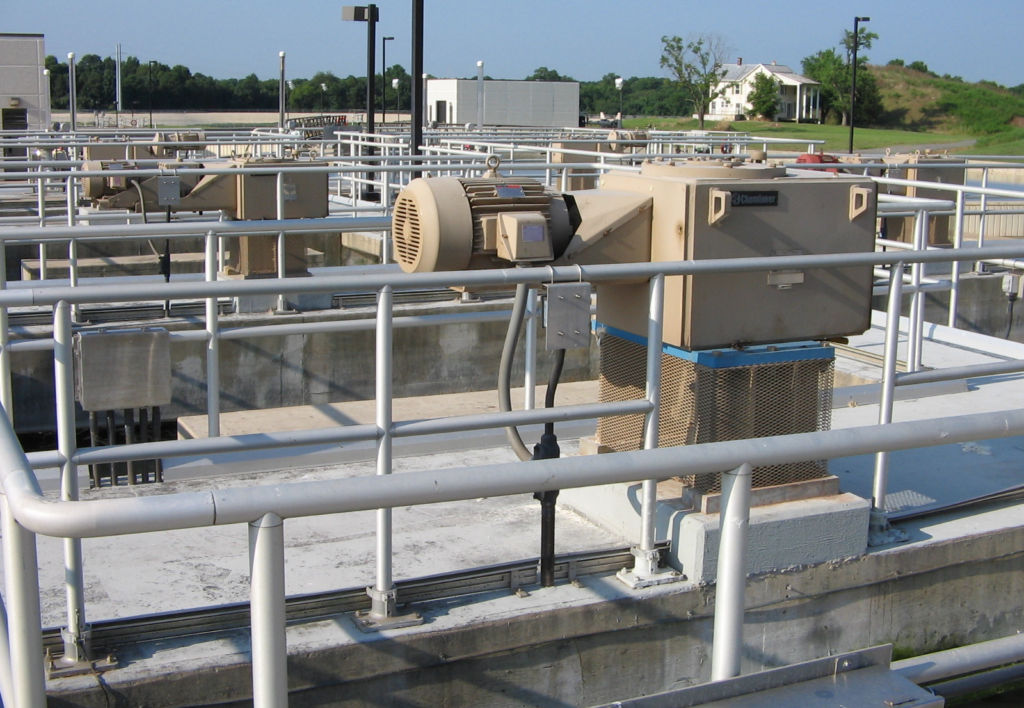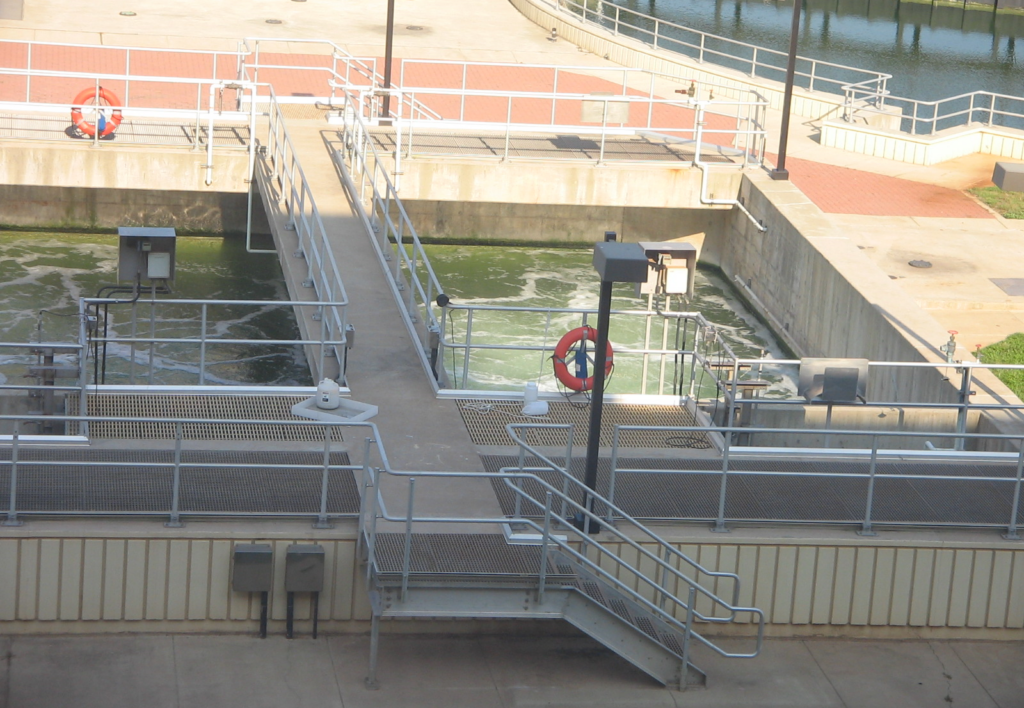 ---
Physical Advanced Treatment
Process water leaving Chemical Advanced Treatment enters a Physical Advanced Treatment process. The UOSA permit requires TSS below 1 mg/L and COD below 10 mg/L. To meet these stringent levels, multimedia depth filtration and activated carbon are used.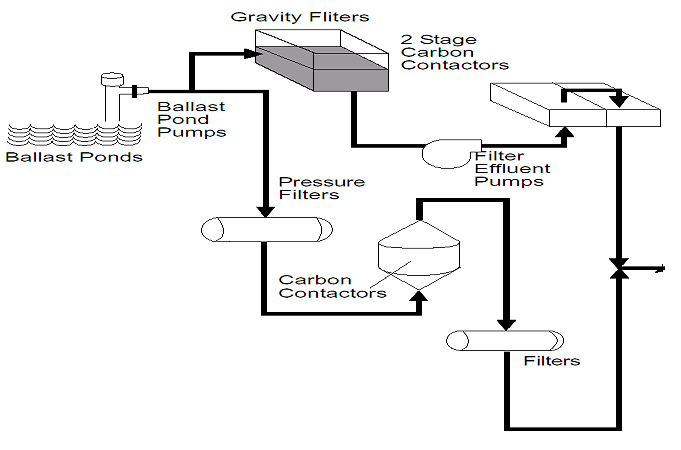 UOSA has two process trains, one with pressure filtration/carbon and one with gravity. The gravity system is as follows:
Six 100-hp vertical turbine pumps transfer effluent from Chemical Advanced Treatment to filters
Alum is used as a filter aid
Ten multimedia filters with 36-inch bed of anthracite, silica, and garnet
Continuous online turbidity analyzers
High-rate backwash with air scour
Intermediate filter effluent pump station pumps filter effluent to carbon
Eight upflow/downflow carbon contactors with 2 million pounds of activated carbon
Carbon transfer facilities to facilitate carbon regeneration or replacement
The pressure process train is similar.
Activated carbon is regenerated onsite with a multi-hearth furnace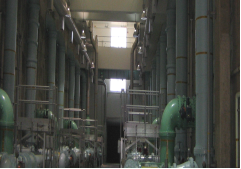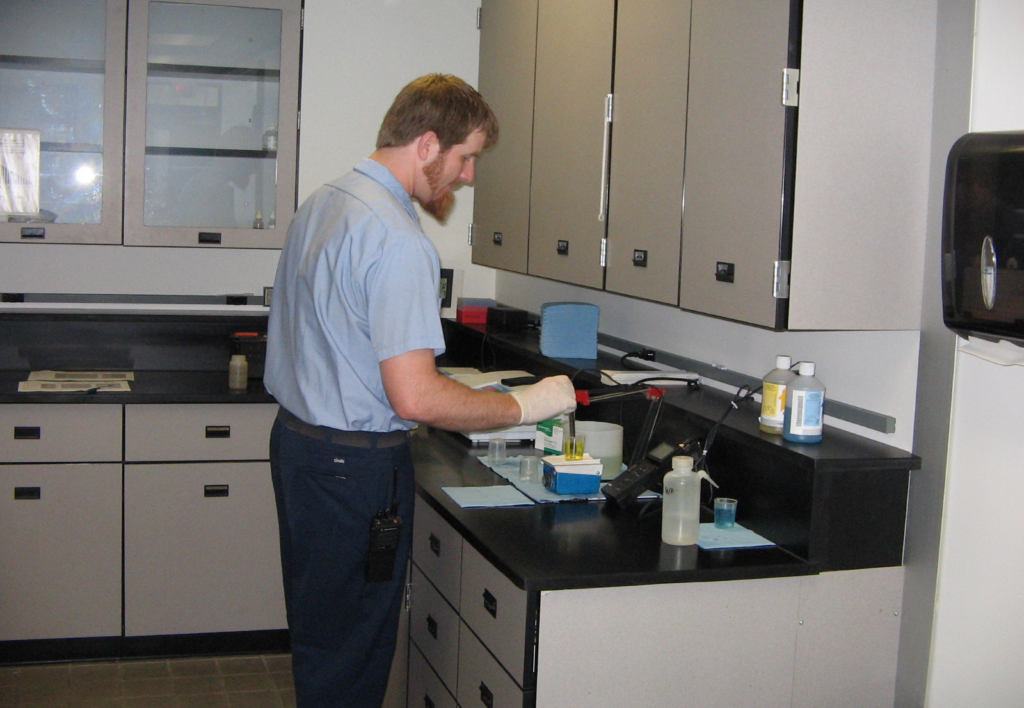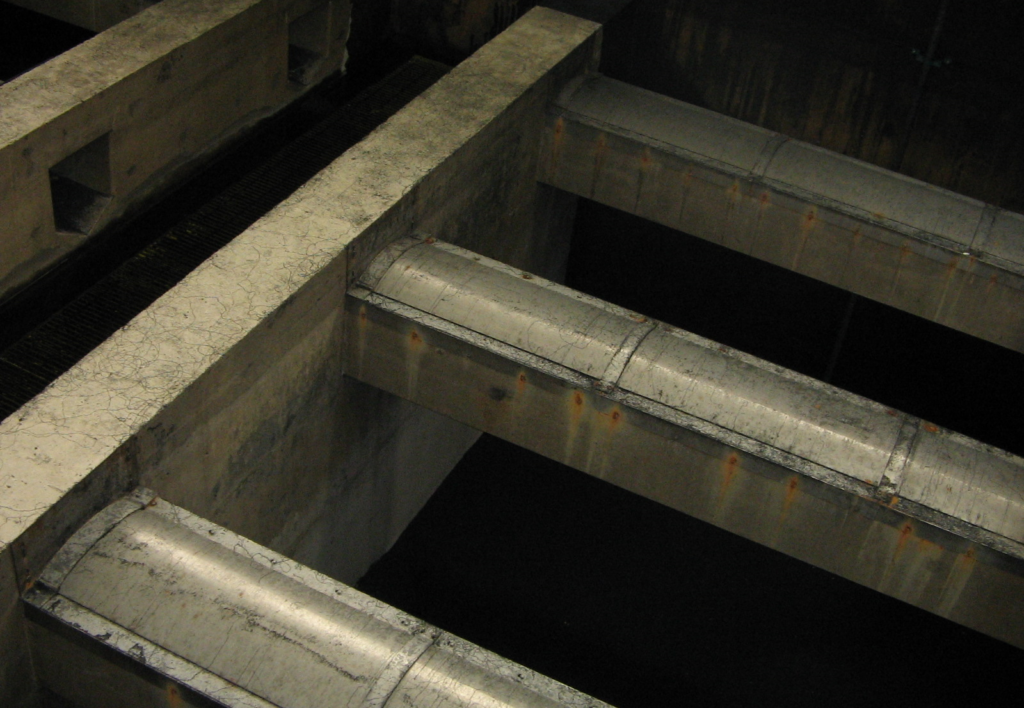 ---
Disinfection
Process water leaving Physical Advanced Treatment enters a disinfection process prior to discharge. Disinfection creates the final barrier to pathogens. UOSA uses a chlorination and dechlorination process. Sodium hypochlorite and sodium bisulfite are used for the disinfection process.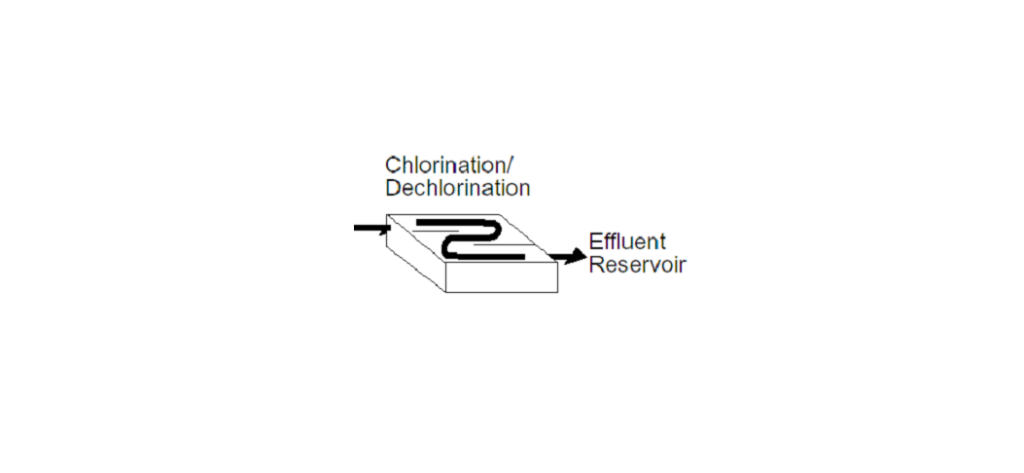 Bulk storage of 36,000 gallons of sodium hypochlorite
Three primary disinfection chlorination pumps and three backups (52 gph)
Two mix chambers and four 345,000-gallon labyrinth contact basins
Continuous online measurement of Total and free residual chlorine at mix chamber, and after 30-minute contact time
Bulk storage of 20,000 gallons of sodium bisulfite and transfer pumps for day tanks
Three bisulfite feed pumps (52 gph)
Continuous online measurement of pre-dechlorination total chlorine residual for bisulfite pacing
Continuous online measurement of post-dechlorination total chlorine residual
Outfall to 180-million-gallon final effluent reservoir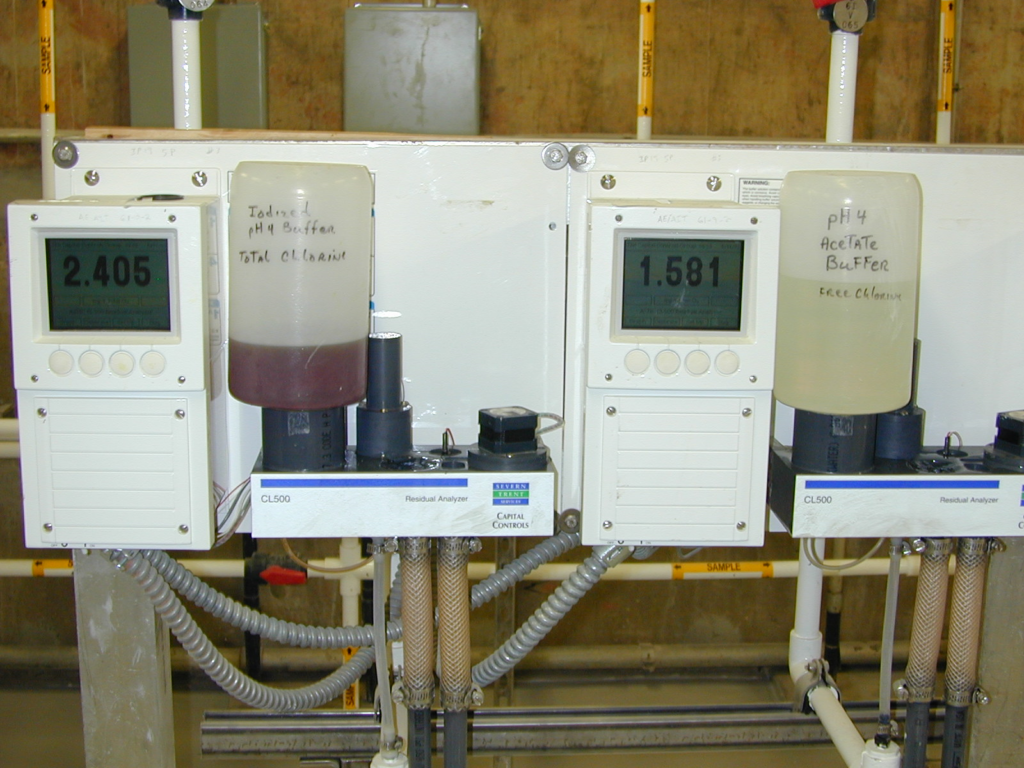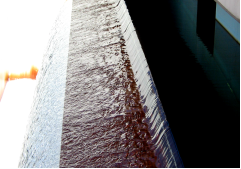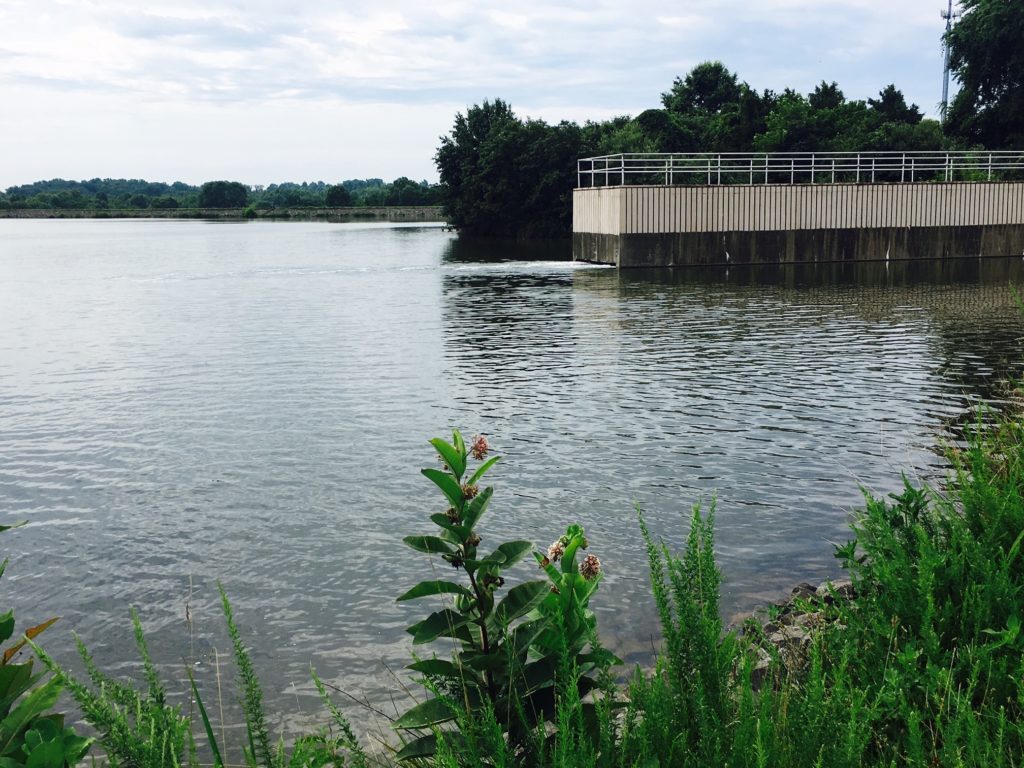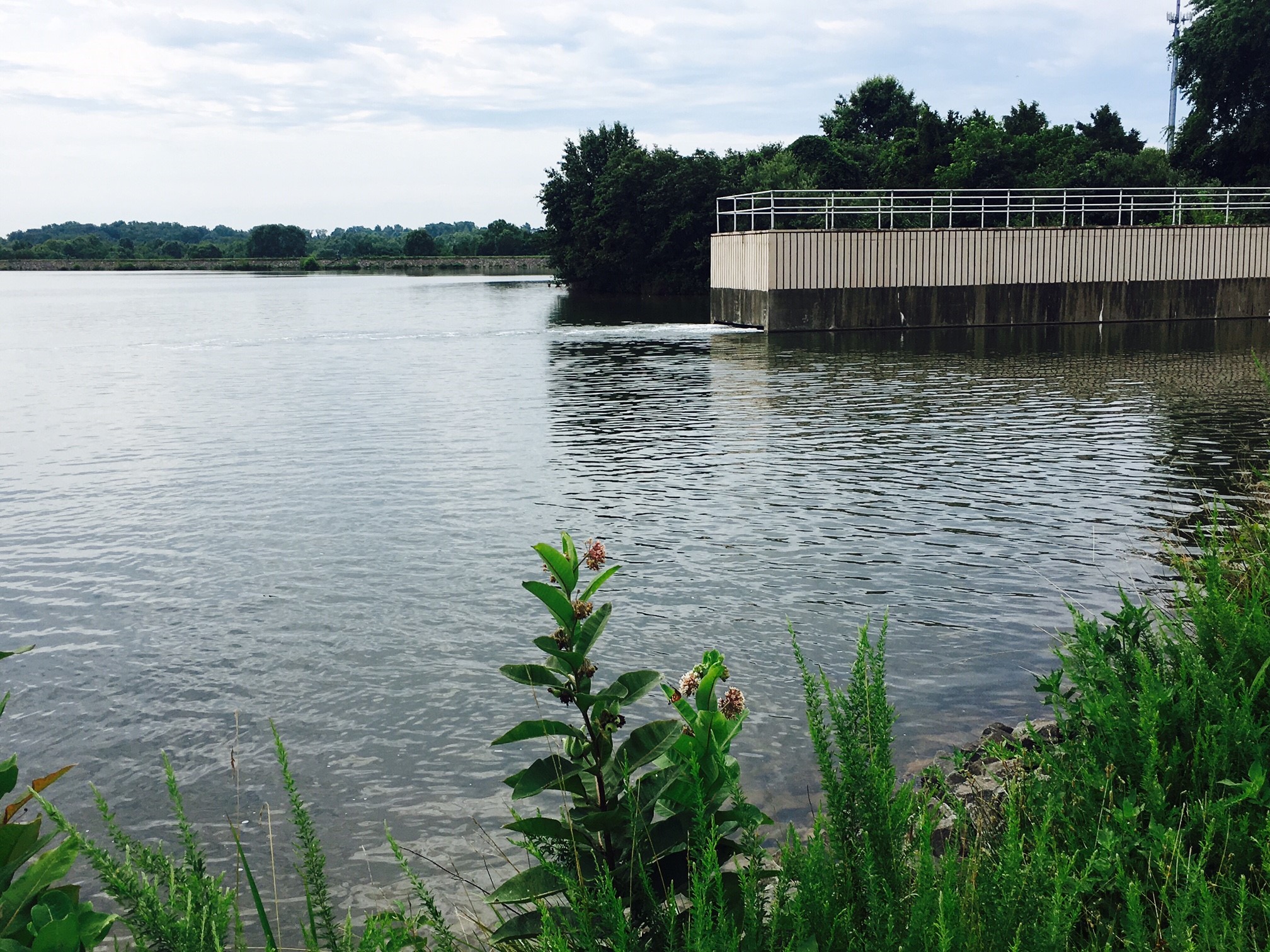 ---
Digestion and Sludge Handling
Organic sludges from the Conventional Treatment processes are stabilized into a biosolids product used as a soil amendment and chemical fertilizer alternative. Primary sludge and waste activated sludge are screened, digested, blended, dewatered, and ultimately dried to produce fertilizer pellets.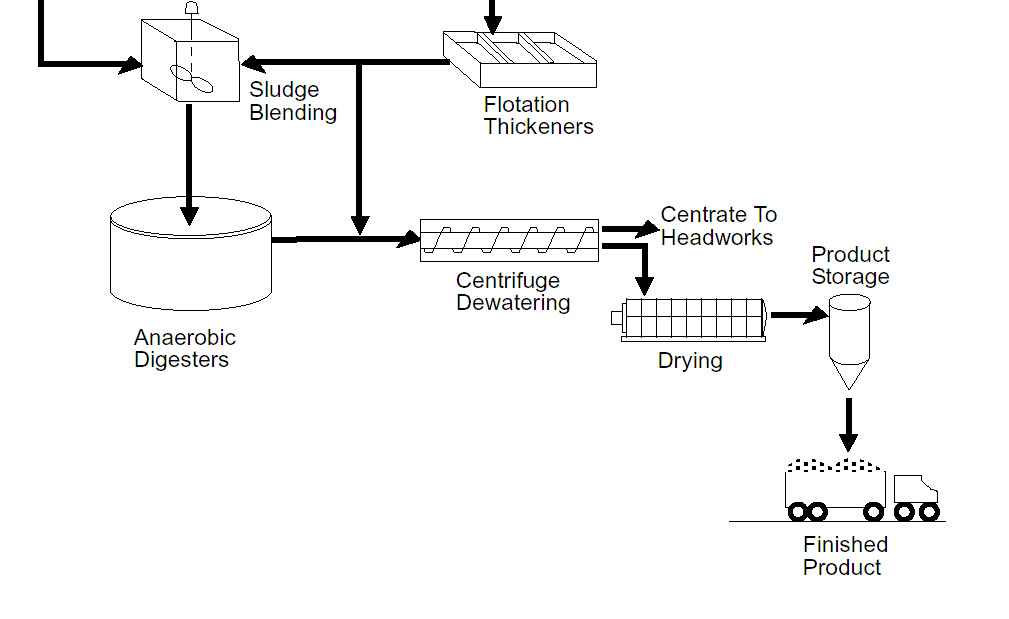 Parkson strain presses remove particulates greater than 5 mm from primary sludge and WAS
Dissolved air floatation thickeners and Westfalia thickening centrifuges thicken WAS to 5-6 percent
Three one-million-gallon mesophilic anaerobic digesters with IDI gas cannon mix systems

biogas is burned for digester heating, steam for carbon regeneration and facility heating
exhaust gasses are captured and used as primary acid to adjust pH after high-lime process

Blending and storage tanks (260,000 gallons) with mix and transfer pumps
Sharples and Westfalia dewatering centrifuges
Berlie and Andritz pelletizer systems

rotary drum dryers
800 tons of pellet storage

RDP lime stabilization system as backup
High-quality fertilizer product